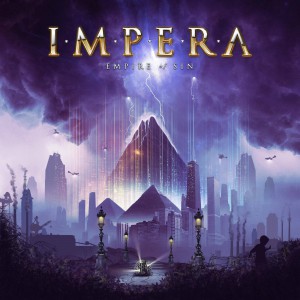 Impera – Empire Of Sin
by Yngwieviking at 15 January 2015,
The guys involved in IMPERA are among the busiest Swedish players, especially the incredibly talented guitar player / composer / producer Mr. Tommy "Ubiquitous" Denander who's own pedigree require the whole Metal Temple's bandwith, beside the mastermind Johan Kihlberg on drums, the bass parts are played by Mats Vassfjord (SCAAR/GRAND DESIGN/LANEY'S LEGION)
Along with the explosive and spectacular, yet jaw-dropping lead Axeworks by Mr. T.Denander ("Don't Stop"/"Lost Boy"), the other thrilling and most obvious parameter in the IMPERA's musical triumph is the superb vocal performance by Matti Alfonzetti, a very energetic actor in the Swedish Metal Scene since the mid 80's, he had sung in countless bands playing or related with almost every talented musician in the Swedish territory, from BAM BAM BOYS to TALISMAN to BOXER to ROAD II RUIN. He was also very successful with his international projects such as JAGGED EDGE or touring with Scott Gorham's (THIN LIZZY/21 GUNS) solo band (WESTERN FRONT), later on, he also released a bunch of superb solo albums between 2000 and 2011 ("Ready" notably is a truly essential piece for every Melodic Rock fan collection), before (re)forming the band RED WHITE AND BLUE a related JAGGED EDGE's Spin-off with English Mike Gray from SKIN. His collaboration with his buddy George Bravo (exERRATIC TALE) under the SKINTRADE moniker was also a success, a more Heavy sensation, who received high praise by both the audience and the medias…Their recent comeback album "Refueled" was published last year!
Except for the track "Darling" which is belong to the bluesy side of Rock, this new opus is set in an angrier mood, it offers a furious slab of Heavy riffage ("Fly Away") with a darkest feel (the slight epic and TENish "End Of The World"), an unusual density in the thematic ("Hole In The Sky") and a more metallic edge in perfect concordance with this new found songwriting method…Clearly, it's their best album, and if you love your Swedish Hard Rock hot and tasty enhanced with a Melodic focus!
The sound design created by the band leader and drummer Johan Kihlberg, aka J.K. Impera, and mixed by Lars Chriss (ROAD II RUIN/LIONS' SHARE) is also powerful and in harmony with this state of fact, sharp, rocking and in concordance with the strong temper of headbanging songs such as "The Beast Is Dead" or "Evil".
The brilliant "Never Enough" is perhaps a little softer with a more AORish pace and its groovy riff quite similar to VAN HALEN, but with the stunning "Thunder in your heart" which is co-written with John Levén (EUROPE/exBRAZEN ABBOT/exLAST AUTUMN'S DREAM/exGLENN HUGHES) the Heaviness takes once again its prominency…"Light In The Sky" is an anthemic cut, a manifesto to the power of wilderness with many WHITESNAKE overtones, and another subtle and emotionnal solo spot by the other Swedish guitar hero!
IMPERA just signed with its third CD "Empire Of Sin" its referential act, musically 2015 starts pretty fast with an incredible bunch of sublime releases!