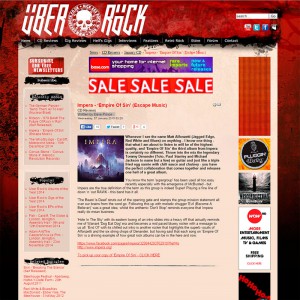 www.uberrock.co.uk – Written by Dave Prince
Whenever I see the name Matt Alfonzetti (Jagged Edge, Red White and Blues) on anything – I know one thing – that what I am about to listen to will be of the highest quality, and 'Empire Of Sin' the third album from Impera is certainly no different. Throw into the mix the legendary Tommy Denander (Toto, Paul Stanley and Michael Jackson to name but a few) on guitar and just like a triple fried egg sarnie with chili sauce and chutney – you have the perfect collaboration that comes together and releases one hell of a great album.
You know the term 'supergroup' has been used all too easy recently especially with the emergence of McBusted – but Impera are the true definition of the term as this group is indeed Super! Playing a fine line of down 'n 'out RAWK – this band has it all.
'The Beast Is Dead' struts out of the opening gate and stamps the group mission statement all over our brains from the word go. Following this up with melodic chugger 'Evil (Become A Believer)' was a great idea, whilst the anthemic 'Don't Stop' reminds everyone that Impera really do mean business.
'Hole In The Sky' with its eastern twang of an intro slides into a heavy riff that actually reminds me of Warrant 'Dog Eat Dog' era and becomes a mid paced bluesy rocker with a message to us all. 'End Of' with its chilled out intro is another rocker that highlights the superb vocals of Alfonzetti and the six string chops of Denander, but having said that each song on 'Empire Of Sin' is a shining example of how great rock albums can be in the here and now.