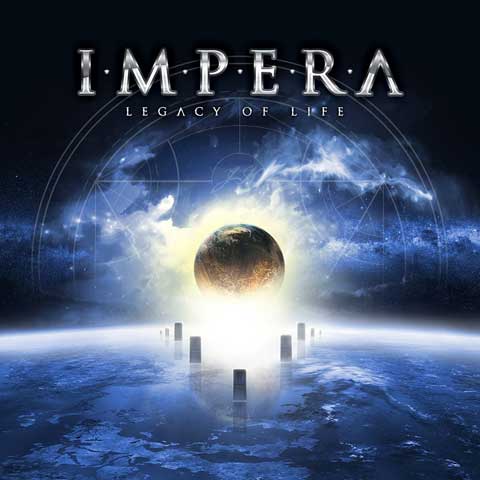 "Legacy Of Life" is the first attempt of this band assembled by a quartet of KISS fanatics – as the Press release states – but the music stands out as not that KISS-related. The talented musicians rounding this release have all been playing with known names in the music business, from Vinnie Vincent and TOTO to JAGGED EDGE and Graham Bonnet, and the expectations logically rise high in regards to what "Legacy Of Life" is all about. Crank it up and roll on with the music, ok?
It's a nice album, it really is; the base is powerful Hard Rock with a slight look to the Scandinavian/German technical likes and a relevant glimpse of the American groovy legacy. The quartet performs in high level and you should not complain about low level satisfaction in this sector. The songs themselves have it all, too: fast rockers, sentimental moments, shake-your-booty teasers and a total of ten tracks that shall make you feel fine 'bout being a rock'n'roller in the first place. There are no keyboards parts here but somehow the music gets melodic when the bands attempts so.
The vocals of Alfonzetti are close to perfection. His voice is warm where needed while he can sound Sunset-Boulevard raised if the songs demand so. The guitars are the ace on this disc, though: Denander lays down his (possibly) most inspiring parts in all this time he has become a sought after player and makes me back up and enjoy his signature performance. The rhythm section is another powerful moment here: close to being a metallic duo, the Vassfjord/Impera team reminds you of how heavyhittin' Hard Rock shall sound in the bass/drums field without any hesitation. The combination of all the above leads to an album that shows no traces of innovation but surely guarantees good time with your friends or a six-pack company.
"Legacy Of Life" may be the first disc IMPERA puts out but sounds quite promising for a full band… if the band decides to move on. Fans of TALISMAN, ECLIPSE, (post-mid-80s) WHITESNAKE, (sleaze-less) SLAUGHTER and VINNIE VINCENT INVASION should track this album down for further entertainment.
Written by Grigoris Chronis Friday, 12 October 2012 09:41
7/10